Hello Readers! We had a small break but are back & planning to bring you many more wonderful interviews. This evening to start us off, is the very talented artist Mitzi Sato-Wiuff. Mitzi is known for her unique and beautiful images. You can visit her
website
and purchase her tubes at
PSPTUBESTOP
.
Thank you so much for talking with us this evening Mitzi.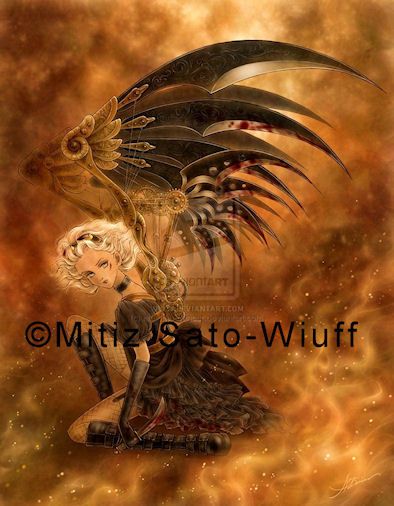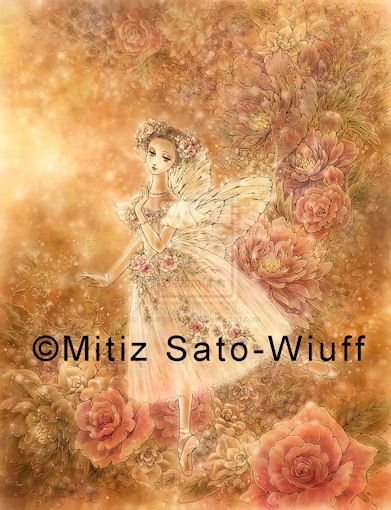 1) How did you become a part of the psp tube community?
I first became involved in the PSP tube community when I signed with My Tag Art (no longer in
business). They were the first company I signed with after about a year of doing fantasy art.
I'm now with PSP Tube Stop.
2) What does your artwork mean to you?
My artwork is an escape from the ordinary everyday reality.
It's a whimsical, imaginative, playful, and creative place where I can relax and stretch my
imagination. I hope the people who come in contact with my artwork get some of the same out of it.
I want my artwork to be fun, beautiful, and maybe even uplifting and inspirational in some
instances.
3) What inspires you in creating your artwork?
I draw inspiration from many sources such as nature, dreams, myths, legends, folklore, and
Japanese textiles, among many other.
4) How long have you been selling psp tubes?
My tubes first became available in spring of 2011. So, a little over a year.
5) How do you create your artwork? Is it by hand
or digitally? What tools do you use in doing the artwork?
"Is it by hand or digitally?" -- That's a strange way to put it.
I guess there's a misconception out there among some people that digital art means it's all
computer generated.Not all digital art is like that. So many digital artists create their pieces stroke by stroke, from scratch BY HAND.
In my case, the line some people insist on drawing between the "traditional" art and the "digital"
art is completely blurred. I do my lines in pen on paper, which I scan into the computer, then digitally color, using the
Corel Painter program, on a tablet with a stylus, painting every bit by hand.
6)Aside from psp tubes, what else do you create
with your artwork?
I license my artwork for digital downloads (line art), edible cake decoration sheets, fabric
blocks, electronics device skins with different companies.
Also I sell on PDO sites like Zazzle and CafePress like most any artists -- prints, buttons, mugs,
pendants, plates, etc.
I also have a coloring book published, which is a compilation of my line art images.
7) As you have developed your style and artwork, which artists
have influenced you? Since I was born and raised in Japan before moving to the US, my primary influence in art is deeply rooted in the Japanese culture.
I grew up reading manga from a very early age, and that's the style I do my fantasy art in now.
I also adore and am inspired by the traditional Japanese tattoos.
I am strongly drawn to works of Reiko Okano (my favorite manga artist), Waki Yamato (also a
manga artist), Gustav Klimt, Aubry Beardsley, Louis Comfort Tiffany, John Singer Sargent, and
Maxfield Parrish.I am sure that all of these artists and countless others have influenced my art in many subtle
ways.
8) Does the psp community help artists become more well known
with getting their names and artwork more visible? I think so.
From what I've seen, the PSP community is great about copyright and license, where your
artwork is always properly credited.
9) What do you enjoy the most about being part of the psp community?
Like other artists, I enjoy seeing what people come up with using one of my artwork as tubes.
That's always fun.
I enjoy the variety and creativity.
I've also started to do little bit of tagging myself this year, and I enjoy it.
10) What are some of your favorite art pieces which you have done and why?
I have a tendency to like the most recent piece I have just finished the most, but I like many of
my dark pieces like "Steampunk Dark Angel", "Secret Kisses", "Unless", and "Santa Muerte"
because I throw in elements and colors that aren't typically associated with "the dark" in these
pieces, making them more interesting and thought-provoking by the juxtaposition.
11) Do you prefer tags with your art tubes animated or non animated? Or are both great to you?
I think there's a bit of a risk for an animated tube to be "over the top" and visually "too busy",
unless a lot of thought goes into it by the tagger.
That said, I've seen some wonderfully made animated tags that are so impressive.
Tastefully restrained use seems to produce a wonderfully animated tags that are pleasing to the
eyes ... at least, for me.
I do enjoy non-animated tags as well.
12) Do you do commissions for taggers? How about ideas for tubes which taggers may have?
I'm open to doing commissions for taggers anytime.
13) Is there anything which you don't allow to be done with your artwork? For example
mirroring, animation, etc.
Not that I can think of.
14) Would you like to receive tags which our readers may do featuring your artwork? We often
love to send the artists tags by our readers.
I totally would LOVE to receive tags! I usually re-post it on my facebook page, tumblr, and my
blog to brag about how lovely they are whenever I receive one.